Heritage History
provides an online-accessible, traditional, narrative history approach for the homeschool. The individual curriculum guides for each time period collection provides not only classic narrative readers, but also provides supplemental resources for families to enrich the use of its readers.Our family had the opportunity to test-drive Heritage History's Ancient Rome curriculum this spring with our 10th grader and 7th grader.
History of Ancient Rome
covers the historical periods of Rome from its founding in 753 B. C. through the Byzantine Empire in 1453 A. D. My 10th grader has been reading
Stories From Livy
by Alfred J. Church,
The Story of Carthage
by Alfred J. Church,
Roman Life in the Days of Cicero
by Alfred J. Church and
The Aeneid
by Alfred J. Church. My 7th grader has been reading
Stories From Ancient Rome
by Alfred J. Church,
Story of the Roman People
by Eva March Tappan,
Stories in Stone from the Roman Forum
and
The Aeneid
by Alfred J. Church.
Both of my older children have been enjoying reading the books included within this collection. My children are discovering Roman history more fascinating than they realized. Although we have not used this resource extensively as yet, I do like the complementary resources included within this curriculum.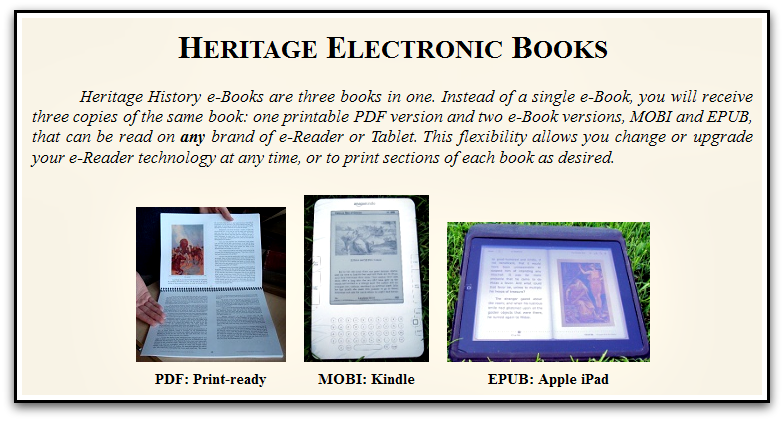 The Heritage Classical Curriculum
User Guide
offers a good explanation of this curriculum. Briefly, this curriculum is based on a narrative and Living Books approach. All reading selections presuppose at least a fourth grade reading (or listening) level, and cover fourth grade through high school levels.
One or two units per year seems to be a reasonable pace to progress through the material, though each family may choose its own pace. Families may even choose to
combine the Heritage Classical Curriculum
with another classical or Charlotte Mason based approach.
What is included within the Ancient Rome volume?
45 traditional historical readers (including historical fiction, biography and comprehensive history) for upper grammar through high school reading level
study resources (such as maps, illustrations and timelines)
printable Study Guide
Curriculum Guide
all on one CD, including PDF, EPUB and MOBI
Ancient Rome Curriculum CD
is available for
$24.99
. View the Heritage Curriculum Spring "Buy Two, Get One Free"
sale
. Also available is the
World History Collection of five CDs
for $99.99.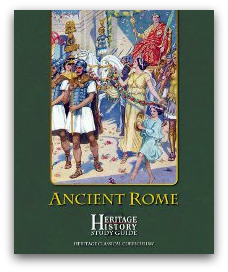 Do you have additional questions? See the
FAQ page
or ask me in the comments.
Disclaimer: As a member of the Homeschool Crew, I received a complimentary copy of this CD for review purposes. Be sure to visit the
Homeschool Crew blog
to read additional reviews, especially of other History Collections.